TRADITIONAL CARBONARA, THE ORIGINAL
Taste a traditional and authentic carbonara, near Termini Station
If you want to try the original roman cuisine, it's impossible not to mention the carbonara. This recipe is made by few genuine ingredients; the typical guanciale, yolks and Pecorino cheese, mixed in the traditional way to create one of the most iconic symbols of Rome.
In places crowded with tourists it is not easy to find the real, original carbonara. There are so many imitations and restaurants that try to deceive tourists using ingredients such as cream or bacon.
At Santa Maria Osteria Romana you can find the authentic carbonara, tasting this recipe in all its simplicity and goodness. An authentic Italian Restaurant with roman cuisine a few steps from Termini Station, the perfect place to stop and eat as soon as you arrive in Rome.
For reservations call  064467297
We are in via Gioberti 28, two minutes away from Termini Station.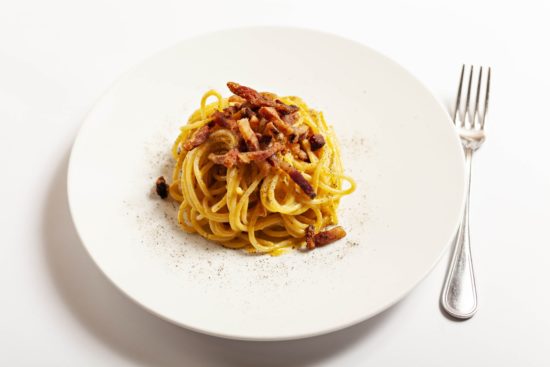 Taste a traditional carbonara
You are just arrived in Rome and you want immediately taste a real carbonara, far from all those fake tourist restaurants? Visit us to have a taste of the traditional roman cuisine.
We select only the best ingredients, such as our guanciale from Amatrice and 100% italian pasta. The cheese is the real Pecorino Romano, a fundamental ingredient to have the true taste of carbonara. A must for anyone visiting Rome, even for a few days, impossible not to taste the original recipe.
A two-minute walk from Termini Station, come and try an authentic carbonara from Santa Maria Osteria Romana.