Carbonara, impossible to resist!
The pasta you need to try when in Rome
Everybody knows Rome for the Vatican and the Colosseum, but Roman cuisine, or 'la cucina romana', is one of the Eternal City's most surprising discoveries. Based around simple, understated ingredients sourced from the local surrounding area, it's basically amazing and impossible to resist!
Pasta gluten free is also available.
Let's see the best pasta in Rome and where you can taste it:
Carbonara
Amatriciana
Cacio & Pepe
Gricia
Some others specialties? According to the seasonality of the products and the Chef's grocery shopping, we offer some peculiar dishes such as: Roman broccoli and sausages, Roman-style codfish, lamb, ossobuco and saltimbocca alla romana …
Via Gioberti 28, near Termini Railway Station
Phone: 06.44 67 297
Every day from 7am to 12am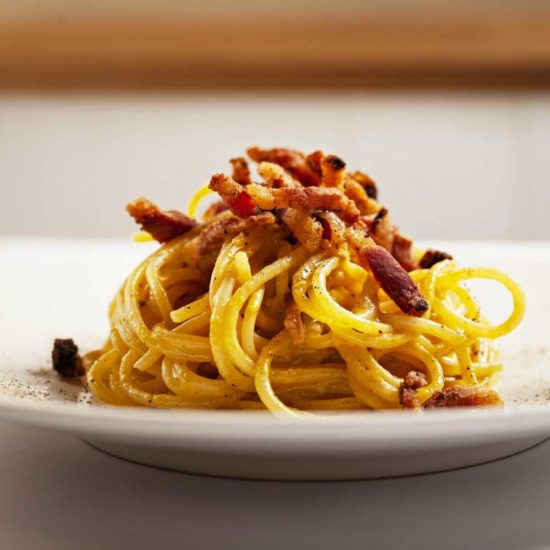 Carbonara
Maybe the most famous among the traditional Roman pasta. Just see it makes you hungry! At Santa Maria Osteria Romana, we prepare it according to the traditional way, adding so much love in it, which is precisely what makes the difference! For the preparation it takes 1 egg yolk for 80 gr of pasta. It depends about your hunger!
Recommended pasta: spaghetti.
Dressing: fresh egg yolks, crunchy guanciale and Roman pecorino.
The original carbonara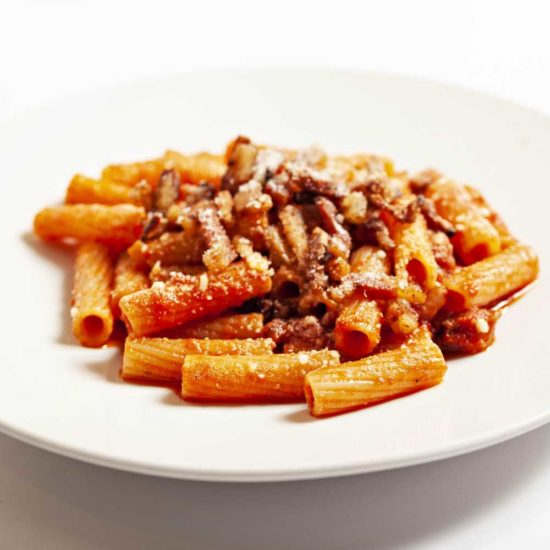 Amatriciana
The Amatriciana sauce, matriciana in Roman style, is a dressing for pasta that was born in Amatrice, a small village in the province of Rieti in the Lazio region. Despite of the origins, Rome has made it its own and couldn't miss our menu! Simple as it is tasty and satisfying. The ingredients make this pasta a real pleasure for the palate.
Recommended pasta: bucatino or mezze maniche.
Dressing: fresh tomato sauce, crunchy guanciale (not pancetta!), Roman pecorino.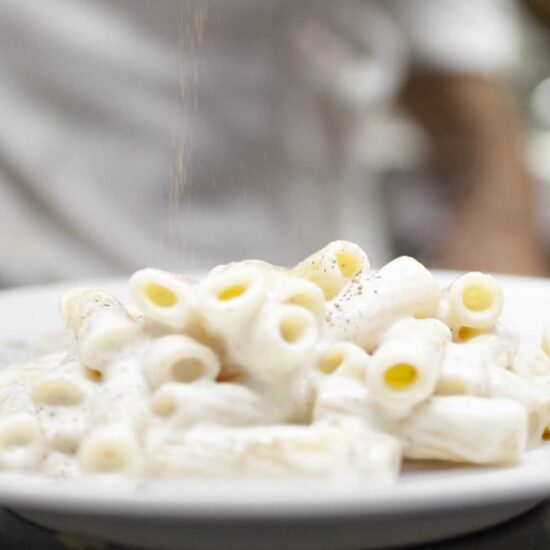 Cacio & pepe
It seems very simple to make. The difficulty, however, there is! It's all about draining the pasta at the right time and seasoning it with the right sauce. The trick is working with the cooking water to cream the dough and create a velvety and creamy cream.
Recommended pasta: tonnarello or rigatoni.
Dressing: seasoned Roman pecorino about 12 months and black pepper.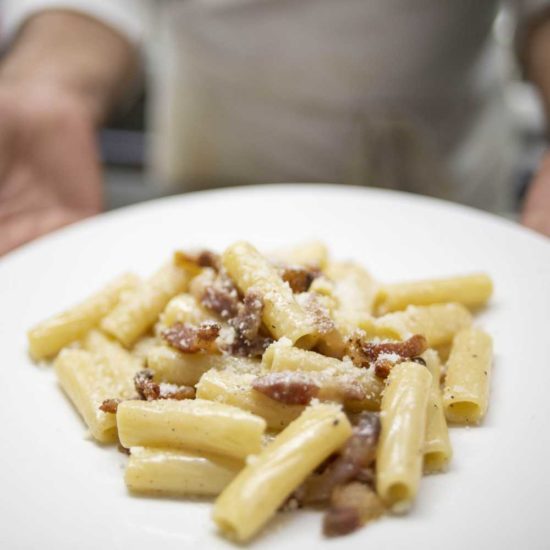 Gricia
A little amatriciana and a little cacio e pepe. Also called the white amatriciana, it is maybe unknown compared to the other traditional Roman pasta, but try to believe it is very good! The secret to making the perfect gricia creamy and tasty is precisely the cooking that must be al dente and then completed in a pan with more boiling water to whisk everything together with the guanciale, Roman pecorino and pepper.
Recommended pasta: rigatoni.
Dressing: crunchy guanciale, Roman pecorino and black pepper.