CAFE', RESTAURANT and COCKTAIL BAR
The sober and welcoming furnishing, contaminated with armchairs from the early 20th century, is part of an architectural choice that privileges the customer's comfort. The restaurant's dining hall, the deli counter and café are characterized by a real gallery of paintings dedicated to Ettore Petrolini, which were specifically commissioned.
As well as the dining hall with its tables, some additional sitting areas give clients a chance to allow themselves a more relaxed moment of rest. Petrolini's venue also develops outside with an elegant outdoor area used as a café and restaurant, with tables surrounded by plants.
Café, cocktail bar and restaurant at a stone's throw from Termini Station. Carefully selected furnishing, ten large paintings celebrating Petrolini, the outside area with its pleasantly laid and discreet tables. The kitchen is managed by the chef Alessandro Bravi, an Italian with a passion for tradition. Petrolini also does take away, with a quick and high quality service.
NEAR SANTA MARIA OSTERIA
Acquario Romano
Basilica of Santa Maria Maggiore
Teatro dell'Opera di Roma
San Pietro in Vincoli
Colosseum
Roman Forum
WALKING ITINERARY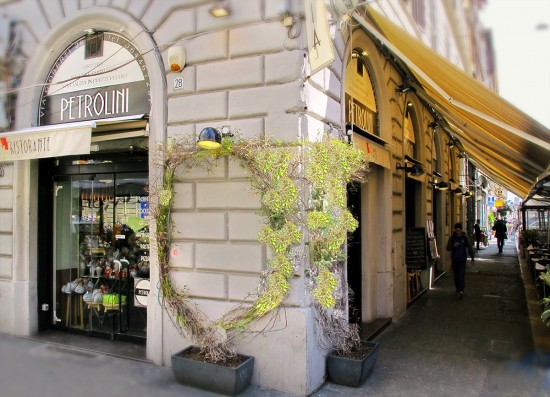 Caffetteria, cocktail bar e ristorante a due passi dalla stazione Termini. Arredi curati sotto ogni punto di vista, dai dieci grandi quadri celebrativi di Santa Maria, all'esterno, contraddistinto da tavoli piacevolmente apparecchiati e discreti. La cucina è capitanata dallo chef Alessandro Bravi, italiano con la passione per la tradizione. Santa Maria è anche take-away, con un servizio da asporto veloce e di qualità.