Spaghetti or linguine with lobster...
The tagliolini, or linguine, with lobster is a specialty of the Santa Maria Osteria Romana restaurant menu, a must for every tourist near Termini station, in Rome. Both for lunch and dinner, it is a delicious first course that brings to the table the scent of the sea. But what distinguishes the goodness of this dish? The lobster is a sea shrimp characterized by two large claws and four antennas (two long two short), often confused with lobster, which is distinguished by the purple color of the carapace, or the typical hard shell that forms the body of each crustacean. It is very sought after for the flavor of its pulp that offers a strong taste to the palate. Furthermore, the consistency of the meat remains compact even after cooking. A lobster of about 400-500 grams is enough to make a light and rich lunch for two people.
Try our spaghetti with lobster, we are in via Gioberti 28 (near Termini Station).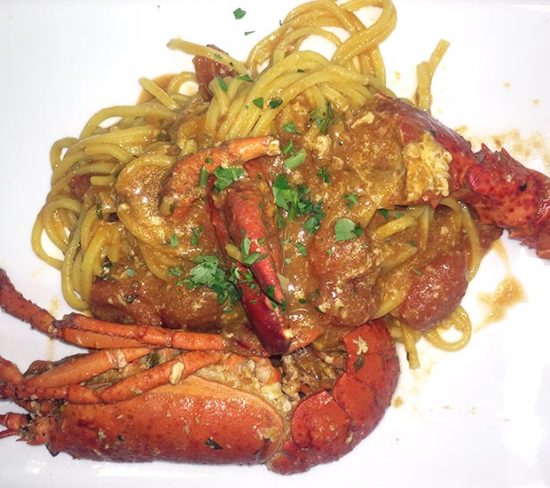 Lobster and that unique taste of the sea
The taste of sea lobster means that the preparation of a dish with noodles (the best type of pasta to combine with this crustacean, but you are also books to choose linguine or spaghetti) requires only a few simple ingredients. Second recipe (for a good pasta with lobster): garlic, oil, fresh and ripe tomatoes, parsley and white wine to fade. Salt enough and chili for those who prefer it. Cooking in a pan takes little time, just cook the lobster on both sides starting from the part of the pulp. When the sauce is ready, add the noodles cooked al dente, allowing them to flavor well in the pan. At this point, they are ready to be served and eaten.
Our linguine with lobster
The kitchen of Santa Maria pays particular attention to the preparation of noodles to lobster, choosing first-quality specimens whose flavor is enhanced by a manual preparation and with the particular touch of the chef, very Italian, who has made this a point of strength of the restaurant. A dish to leave a good memory of Rome to those who are about to get on a train, but also to welcome those who have just arrived. If you are in the Termini station area in Rome, the restaurant Santa Maria Osteria Romana is the top for the preparation of spaghetti with lobster, guaranteed!